(Beautiful tables!  Check out the real apple candle holders, too cute!)
I just have to do a little braggin' today.   I was so honored that the women's ministry team at Crossroad Baptist Church in Hueytown asked me to speak for their Fall brunch. 
 This is the sweetest warmest group of women and I know if I lived a little closer I'd be hanging out with Lisa, Joey and Patty (along with everyone else). Of course, it may be best that I don't live closer because I think we might just have way too much fun together. 
 The sweet spirit and the GREAT food made me feel warm and welcome.  I walked in that door and immediately I felt like I was with homefolk.  Great feeling.  It was so apparent that the Lord was working in the lives of these ladies as they are preparing to get his new ministry up and running. 
Crossroad Baptist Church Bunch – My New Girlfriends!
Now for the rest of the story. 
 When Joey contacted me I just knew the message the Lord had for this group – Joy.  God given joy.  The joy that comes from the Lord.  True joy.
 I was putting the finishing touches on this joy message when I got the email. 
Ouch – so much for that joy topic.  The email was from my editor. 
 More changes were needed to my manuscript.  More than the editor thought would be needed.  She was calling in the Calvary (aka J.S., which is short for Just Spectacular copy editor) for additional support. 
I cried.  A lot.
I felt like a failure and a crappy failure at that.
I can't do this, Lord.  I'm just not any good at it. I can't get anything right.  
I had myself a little pity party – well, it was not such a little party – it was a pretty big one.
 My editor suggested I call her.
 I waited until the ugly crying stage passed and I called her.   She was great –so nice that I cried some more, but I'm sure she didn't notice…. yeah, right.  
 I was still in the midst of my pity party and it hit me – I am speaking on joy tomorrow.  Oh great.  I'm feeling really joyous right now.
  Side note: Talking about the Joy of the Lord is much easier when you have a little happiness to back it up. 
 Talking about the Joy of the Lord when you're on the verge of ugly crying is hard.  Really hard.  It's a leap of …..
FAITH.
But the positive is I had a great visual aid – much better than the lipstick thing I was going to do.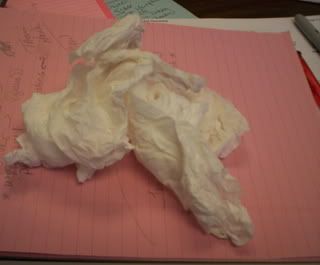 I told my editor I was going to use these tissues as a visual reference to joy and her word was
  Gross.
That's why she's the editor and I'm the whiny writer. She edits and I write long stuff that requires work and lots of it. 
 I was second guessing God's call on my life.  Lord, are you sure it's me that you want writing for You and speaking to women about You?   I wondered if it wouldn't be better if I just tossed it all and went to work selling airbrushed t-shirts on the beach. 
 I liked that plan. Lord, I have a new plan –air-brushed t-shirts on the beach.  Great one, huh?  He wasn't impressed. He made it very clear that He did not  call me to sell t-shirts on the beach.
  He did call me to connect with women, to speak to them, lead them and to write for them.  
 I get it Lord, this isn't about me.  I can just imagine that Lord saying "Well, it's about time that message started sinking in, missy." 
It's about Joy in You in all circumstances, even ones that end up in pity parties. 
It's about Joy in You, Lord.  It's about calling it all joy when I would much rather just quit.
It's about knowing that hurt feelings, tears, and sadness will pass, but Your joy will remain.
It's about sharing all these things with those You put before me.
For now, I will stay right here with the Lord (no t-shirts on the beach).
 I'll stand not in my strength, but in His.
And I will be living a life of Joy – not happiness or ease, but Joy – true Joy! 
And I'll pray that the Lord will bless with another joy in my life like this incredible editor and copy editor who have both  heart for the Lord, patience, honesty, and such  sweet spirits and the other joy last week — Crossroad Baptist Women's Ministry.  These women of God just radiate pure joy!
Here's praying that you have a joy-filled week (without the need for tissues).